RIGGED 3D Model of Sukhoi SU-27UB Flanker
3D model of Sukhoi SU-27UB Flanker
3D model of Sukhoi SU-27UB Flanker (Click to Go to 3D Store)
Twin-engine front-line fighter aircraft designed by the Russian Sukhoi Design Bureau in the late 1970s as a counter to the U.S. third-generation air-superiority fighters such as F-14 and F-15. The PLA Air Force (PLAAF) has acquired three batches totalling 76 Su-27 fighters from Russia since 1992. Two variant are currently serving with the PLAAF: the single-seat Su-27SK fighter manufactured by KnAAPO at Komsomolsk-na-Amur and the two-seat Su-27UBK fighter-trainer manufactured by IAPO at Irkusk. The Su-27SK is also built under license at Shenyang Aircraft Industry Co. (SAC) as the Jian-11.
:::::::::::::::
Textures/material:
Textures:
Diffuse: 4096x4096pxl BMP format
Bump: 4096x4096pxl BMP format
:::::::::::::::
Geometry:
Vertices: 92946
Faces: 182806
:::::::::::::::
RIGGING
Model is rigged; it is very easy way for setup static or animated scenes
All moved part are linked (wire parameters) to separates sliders.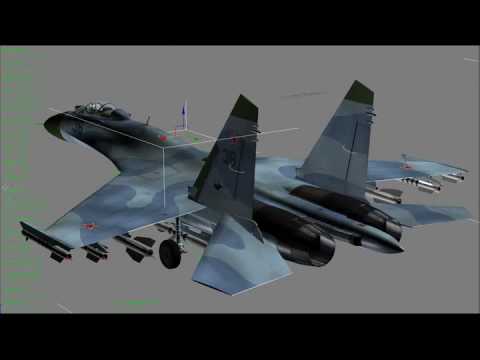 Rigging parts:
Pilot's Cockpit
Air Brake
Front's left and right and backs left and right elevators
Right stabilizator
Left stabilizator
Right Rudder
Left Rudder
Right jet nozzle
Left jet nozzle
Front chassis cap
Front chassis main post
Front chassis wheel amortization
Back chassis caps (right and left)
Back chassis main right post
Back chassis main right post
Back chassis whell amortization
:::::::::::::::
Render/Previews:
preview made with used V-Ray render, for 3ds max included 2 files, with setup for V-Ray render and for standard light tracer(see marked image for light traced render please),
For max scenes all light setup are saved! – Ready for close up render (open and rendering)